History
A brief summary of our history
RET's history dates back to 1878, from horse-drawn tram to metro train, hybrid bus and Fast Ferry.
Horse-drawn and steam-powered trams (RTM)
We started operations with a horse-drawn tram in 1878. Our predecessor was known as Rotterdamsche Tramweg Maatschappij (RTM) at the time. RTM operated horse-drawn trams and steam powered trams until 1904 in and around a Rotterdam that had not yet expanded.

The electric tram (RETM)
The electric tram was introduced as a new form of urban transport in 1905. It also gave us a new name: Rotterdamse Electrische Tramweg Maatschappij (RETM). The very first electric tram travelled from Honingerdijk via Beurs to Park and was a great success. A year later, there were already six tram lines. A high point of 25 lines was reached in 1930.
Tram and bus (RET)
We were given our current name, Rotterdamse Elektrische Tram (RET), on 15 October 1927, when the Municipality of Rotterdam took over the private company RETM. A year later we were operating our first bus route between Overschie and Coolsingel. Seven bus routes were added in 1930 and, ten years later, 11 bus routes were being operated. There was a shortage of fuel during the Second World War. Many buses and trams were commandeered and tram services were discontinued in 1944 because of a lack of electricity.
Construction of the metro line (RET)
The bus and tram line networks were rapidly expanded after the war. Rotterdam gained a new form of transport in 1968. RET introduced the first metro line in the Netherlands. We had started the construction of this line in 1959. After nine years of building, the first metro connection between Rotterdam's central station and Zuidplein became a reality.

Rotterdam's largest transport company
From horse tram to subway, hybrid bus and Fast Ferry. We have grown substantially since 1878. We currently operate 38 bus routes, 9 tram lines and 5 metro/express tram lines with 272 buses, 112 trams and 167 metro trains.
Independent again
RET was owned and managed by the Municipality of Rotterdam for almost 80 years. We became an independent company again in 2007.

Fast Ferry
We have also been transporting passengers by water since July 2008. The Fast Ferry travels between Hook of Holland, Maasvlakte and Pistoolhaven.
Night bus
A night bus service for people on a night out was introduced in 2011. The night bus travels during weekends from Hook of Holland to Ridderkerk and from Pijnacker to Spijkenisse.

New bus routes
RET acquired the bus concession for Rotterdam and its surrounding area in 2012, as a result of which the personnel and rolling stock of Qbuzz were taken over. Since the acquisition, RET has also been providing bus transport services to Maassluis, Lansingerland, Krimpen aan den IJssel, Ridderkerk, Barendrecht, Delft and Zoetermeer.
ZoRo-bus
The dedicated bus lane for the ZoRo-bus was opened in December 2012. This infrastructure is used to provide a rapid and frequent bus connection between Zoetermeer and Rodenrijs stations, from where passengers can continue to rapidly travel on to The Hague and Rotterdam. The De ZoRo-bus is the final element of the RandstadRail project.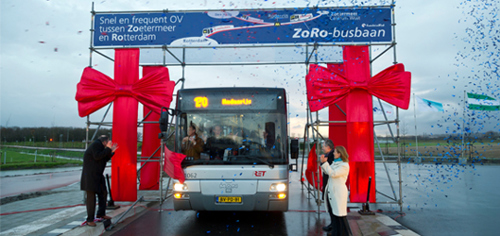 Hoekse Line will become a light rail connection
Preparations for the conversion of the Hoekse Line into a light rail connection started in 2013. This line will become part of Metro Line B with Nesselande and Hook of Holland Strand as final destinations. Rotterdam will therefore have a direct metro connection between beach and beach from 2019.